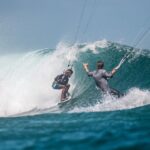 Surf School Mauritius
Mauritius offers an indescribable coastline, surrounded by endless reefs and water in every shade of blue. There is no better way to experience the island than from the water with a kite.
Bart was born and raised on the West coast of Mauritius and started kitesurfing as a teenager. He is passionate about the ocean and water sports, which he practices daily as a surf coach and kitesurf instructor. He says Le Morne is the go-to spot for kitesurfing. The lagoon on the side of the mountain provides a perfect and safe windy spot for beginners. It's possible to learn to control the kite, take your first kiting metres and use the flat waters to move on to jumps and tricks.
Bart coaches from beginner to advanced levels and knows the best spots and conditions to get the most out of your kite or surf trip. Contact Bart on https://surfschoolmauritius.business.site/ and @surfschool_mauritius on Instagram.
Hang Loose
Kitesurfing is easy, the gate to endless sensations flying a kite while standing on a board. This is what the Hang Loose site says:
Hang Loose Tours founder, Christian Stepnow, is one of the few worldwide IKO examiners who had chosen Mauritius to set up a kite school, as it is one of the best kite surfing locations in the world. We are friendly, supportive, patient and committed to your success. But most of all, we are flexible to move to different spots according to the most suitable wind conditions. We want you to make the best of your holiday time.
Learn to kitesurf in paradise with Hang Loose Tours Mauritius. We believe that challenging yourself through sport frees you and helps to make you happy. We offer various lesson formats depending on your skill level and personal preference. Our instructors are all IKO certified. In our courses, we use the latest training techniques to help you learn faster and more safely – and have a blast doing it.
Become part of the international kite surfing community and get certified with an international licence by the end of every course program. As a personal challenge, you can join one of our tours on completion of the training!
Take a look at their site:
https://www.hangloosetours.com/en/kite/lessons-mauritius
Eline